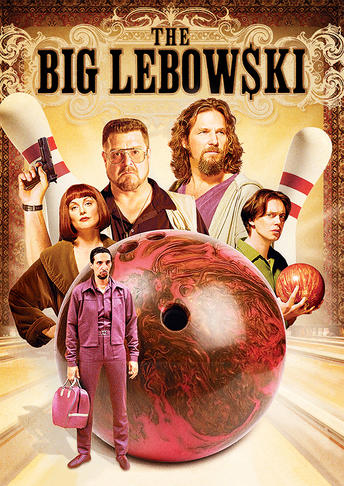 I heard the Dude is Epicurean. He follows the pleasure principle. Take 'er easy.
And he's anything but unemotional. I've never heard anyone say Mr. Spock is a dude.
But wait a minute. The Coen brothers film The Big Lebowski is a tale of the Dude being very unDude.
This aggression will not stand, man
A carpet pisser ruins his rug. And that's a bummer, man. That rug really tied the room together.
There are two Jeffrey Lebowskis. The Dude is an unemployed, aging hippie. The other Lebowski is a millionaire (sort of) whose young trophy wife owes money to known pornographers.
It takes the goons a while to figure out they're at the wrong Lebowski residence.
The Dude was about to realize it's all part of the durned human comedy. Except his bowling buddy, Walter, convinces the Dude that he's entitled to compensation. And the Dude gets uptight and decides to confront the Big Lebowski.
A Stoic dude would have been like, "Amor fati, man. It's just a rug."
Entering a world of pain
But in the Dude's mind the rug is not a preferred indifferent. The soiled rug didn't mess with his eudaimonia. The Dude's belief that he was done wrong did that.
The serenity prayer is Stoicism in one sentence: change the things you can and accept the things you can't change.
Stoicism isn't emotionless. That's just being a human paraquat. Calmer than you are. Shoosh.
So someone peed on your favorite rug? Sometimes you eat the bear. And sometimes the bear, well, he eats you.
Calmer than you are
A wiser dude once said, "Life is change, but that's only a bummer if you think it is."
Is that some kinda Eastern thing? Far from it. It's Marcus Aurelius. Maybe I paraphrased a bit. Whatever, man.
Back in the day, Stoics and Epicureans were bowling for different teams. Maybe we still are. But it's not about winning the semi-finals. It's how we play the game.
Fixing the cable
Putting negative emotions into perspective makes us chill. Anger, greed, lust, fear, jealousy are just different words for uptight.
In the final estimation Stoicism is about being a good person. And it's hard to be dudely toward other people if you're uptight.
But not freaking out over stupid stuff takes a little self-discipline. The Dude wouldn't have had to put up with all those ins and outs if he hadn't been greedy for a cut of Mr. Lebowski's money in the first place.
Some guy peed on your rug? Forget it. Let's go bowling.